It has been a busy couple days for me, mom, and dad.  Mom offically returned on work on Monday.  She had a terrible time, but she is thankful she has Gayle to take care of me.
Wednesday mom and dad only had to work until 3, so we had time to celebrate my 14th week birthday with some tummy time, reading, and clapping games.
Later that day I saw my first rainbow…
Thursday was the BIG day.  The first day of school and mom's birthday.  It was hard for mom to leave me, but she knows I am in good hands.  Here are a few pictures of me at Gayle's dad took for mom at lunch.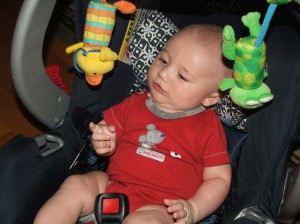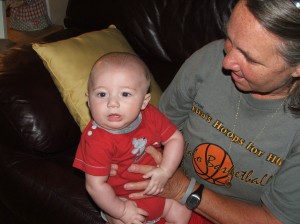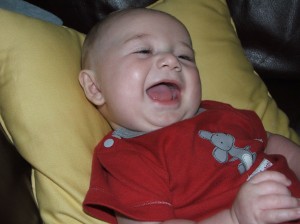 Later, when mom got home after a LONG day, we played and had a great time.  Here are pictures of when we first saw each other after such a long day…
I capped off a long day with a relaxing bath…
Mom's sorry she hasn't had time to update for the last couple days, we have just been enjoying every minute we have together.  Thanks for all the birthday wishes and loads of support for her first week back, she sure didn't know how tough it would be to leave me!