Now that I have found my feet I've gotten pretty good at ring sitting.  Awesome Aunt Becky told Mom and Dad all about how to make me practice.  First I started the day with some cereal. 
Anticipating my next bite…
Then I had to change into my Hokie attire (even though we lost it was as mom expected, terrible offensive line courtsey of our terrible offensive coordinator…I'm only 3 months and I could call a better game!)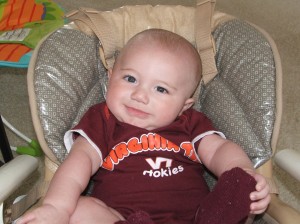 Here are my first attempts at ring sitting
After we talked to Becky she said we could take the pillow away, so we did.  I seemed to get stronger as the day went on.
We're hoping another month and I'll be sitting all by myself.  Then the baby-proofing begins!